Church Updates: Stay Informed - Stay Connected
Check here regularly for updates and announcements.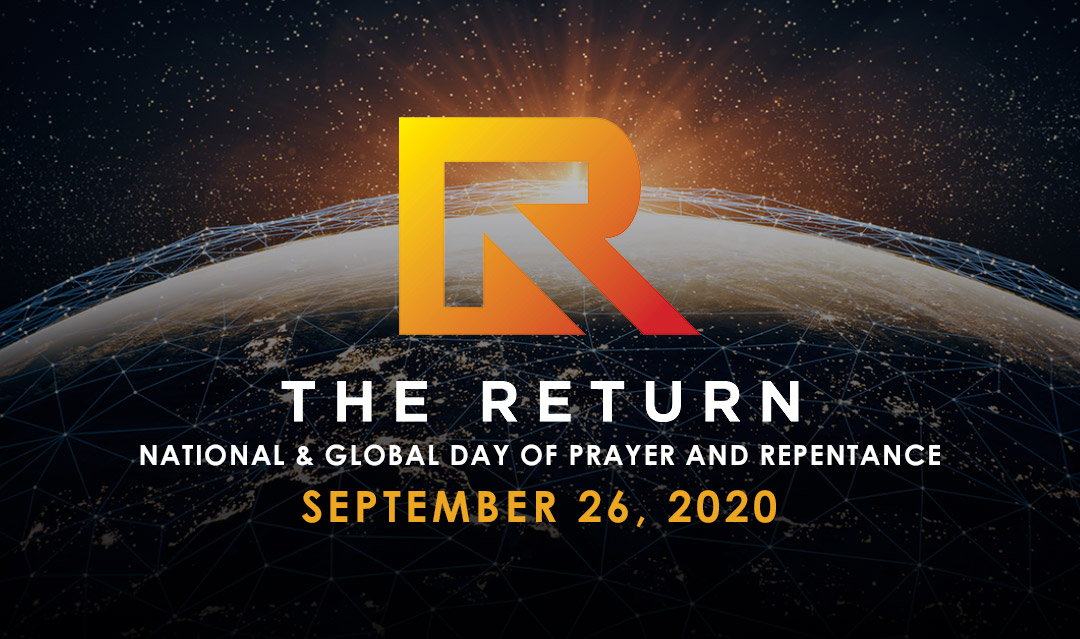 THE RETURN is a movement, an appointed time, and a specific day set apart for one purpose – the return to God by coming before His presence in humility, in sincerity in prayer, and repentance.
The movement begins now and will continue through the entire year of 2020 leading up to 10 Days of Prayer, Fasting, and Repentance – Starting with the Biblical Feast of Trumpets and ending with the Day of Atonement (September 18-September 28). The central day of The Return will be Saturday, September 26, 2020 on the National Mall and throughout the nation and world.
Come to the Live Event in Washington or take part by Live Simulcast wherever you are – In your Home, Church, Town, or City!

This is the goal: to live in harmony with one another and demonstrate affectionate love, sympathy, and kindness toward other believers. Let humility describe who you are as you dearly love one another. Never retaliate when someone treats you wrongly, nor insult those who insult you, but instead, respond by speaking a blessing over them—because a blessing is what God promised to give you. 1 Peter 3: 8-9 [TPT]
Women's Ministry:
Women's Ministry hosted our annual Kickoff Brunch Party on August 29th at Little Chapel in the Fellowship Hall to learn about all the opportunities Women's Ministry will be offering in Biblical Studies as well as Spring Women's Retreat. Also to celebrate what God has been doing here at LC and in the lives of so many of our beautiful ladies. Click HERE for the Women's Ministry Calendar.
Fall 2020 Sunday Classes:
Fall 2020 Sunday classes start on September 13th and will be held from 9:00-9:45 each Sunday before the service. Classes are varied in topic and length.
Survey of the Old Testament: A 14-week journey into His story.
The Old Testament is the recording of who God is. It is the foundational history of the kingdom of men colliding with the promise of the Kingdom of God in fullness. Come for an Old Testament survey that explores science, the law, the role of God's women, God's long-suffering relationship with chosen people, the war with the enemy of God, His certain victory, and more. (Facilitated by: Elder Ron Demarkles in the Living Room)
Living the Life: A 13-week journey into our high call from the Book of James
The Book of James is a vibrant word for living the life that God has called us to during turbulent times. James covers truth such as putting faith in action, the power of the tongue, the distraction of wealth, and drawing near to His Presence. Come and rise to the high call despite the challenges of a time such as this. (Facilitated by: Elena Gonzales in the Prayer Chapel )
Spiritual Gifts: A 6-week journey
Romans 12:5-9 says, "in Christ we, though many, form one body, and each member belongs to all the others. We have different gifts, according to the grace given to each of us. If your gift is prophesying, then prophesy in accordance with your faith; if it is serving, then serve; if it is teaching, then teach; if it is to encourage, then give encouragement; if it is giving, then give generously; if it is to lead, do it diligently; if it is to show mercy, do it cheerfully." Come discover God's plan for the priesthood of every believer. (Facilitated by: Tom Daniel in the Upper Room)
Altitude Youth Ministry:
Altitude Youth Group is kicking off the fall study on September 18th at 6:00pm. We'll be digging into "Finding Truth," a study by Francis Chan. We meet every 1st and 3rd Friday, at Little Chapel, on the Upper Lever. Check out the study and other youth group details here: Altitude Youth Page.
Men's Ministry:
Men's Ministry is firing up the Band of Brother's Saturday Study, on October 3rd. We meet every first and third Saturday from 8:00-10:00 am, in the Little Chapel Fellowship Hall. A home-cooked breakfast kicks us off to fellowship and seriously digging-study of a book of the Bible. All are welcome.
Covid 19 Safety:
Yes...All of our ministries care about your health and safety. Due to the Colorado Mask Mandate, a mask is required to "enter and move" through our buildings. Once seated and distanced the mask can be removed for the service, group, or study. Please help us with this by bringing your mask. We have also provided motion-sensing hand sanitizer locations for your safety throughout the building. We would appreciate if you used them. It's an easy way to love well.

Many gatherings are meeting in person

Prayer Covering (our weekly prayer meeting) continues to meet on Wednesdays at 3:00p. If you want to join in or have prayer needs, call: (719) 748-3862. Prayer Covering ministers are also making private meetings and safe home visits for any people in the at-risk population who desire personal prayer. More details are on the Prayer Covering Web Page.
Altitude Youth Group meets in person, every first and third Friday, from 6-8 pm. Look for other youth events that are being scheduled. Details are on the Altitude Youth Web Page.

Most Recent Sunday Message - Updated Every Sunday Morning
The Great Authority Challenge:
Step 1: Ask the Holy Spirit for a time of intimacy with Him. Specifically ask Him to bring to your remembrance the things He accomplished and fulfilled in your story.
Journal the parts of your testimony (story of God in your life) that the Holy Spirit brings to your remembrance. Journal powerful places of the Lord's activity in your life of which you were "eye witness of"/ were participant in / were receiver of.
Submit this journal to the authority of the Holy Spirit. Declare to Him that you understand that this narrative is the place of your authority. Submit by telling Him that you trust that He is going to release the authority of your story through this unfolding journey in the weeks to come.
Step 2: Ask the Holy Spirit for a time of intimacy with Him. Ask Him to bring out one encounter from what you have journaled in your story with Him/p>
This is being the 10th leper. This is going back to Him with praise for His encounter with you. This is letting the encounter draw you back to a relationship and a deeper truth.
Dig deeper into the depths of the encounter:
Turn to John 4:1-26: The Woman at the Well
As you read, insert your encounter into the narrative of this woman's encounter. Notice how you are like the woman at the well. Let Jesus' words to her be His words to you as you remember your encounter.
Journal and Submit this time in your journal to the authority of the Holy Spirit. Journal the insights of what He met for you in the deep places when He encountered you there.
Step 3: Ask the Holy Spirit for a time of intimacy with Him. Ask Him to continue to speak through this encounter with Him.
Explore with Him: What did the Lord meet for you in your encounter?
Go deeper yet: What deep part of you was met in your encounter?
Journal and Submit this time in your journal to the authority of the Holy Spirit. Journal the insights of what He met for you in the deep places when He encountered you there.
Join us on Sunday
Little Chapel is located just north of the intersection of Highways 67 and 24 in Divide, Colorado at 69 County Road 5, Divide, CO 80814.
While our Sunday worship service begins at 10am, our congregation begins gathering around 9am to share conversation, coffee, and snacks in the Fellowship Hall. On any given day, you will see people dressed in anything from jeans to full suits.
Little Chapel is an Evangelical Free Church that meets weekly on Sundays in Divide, CO.